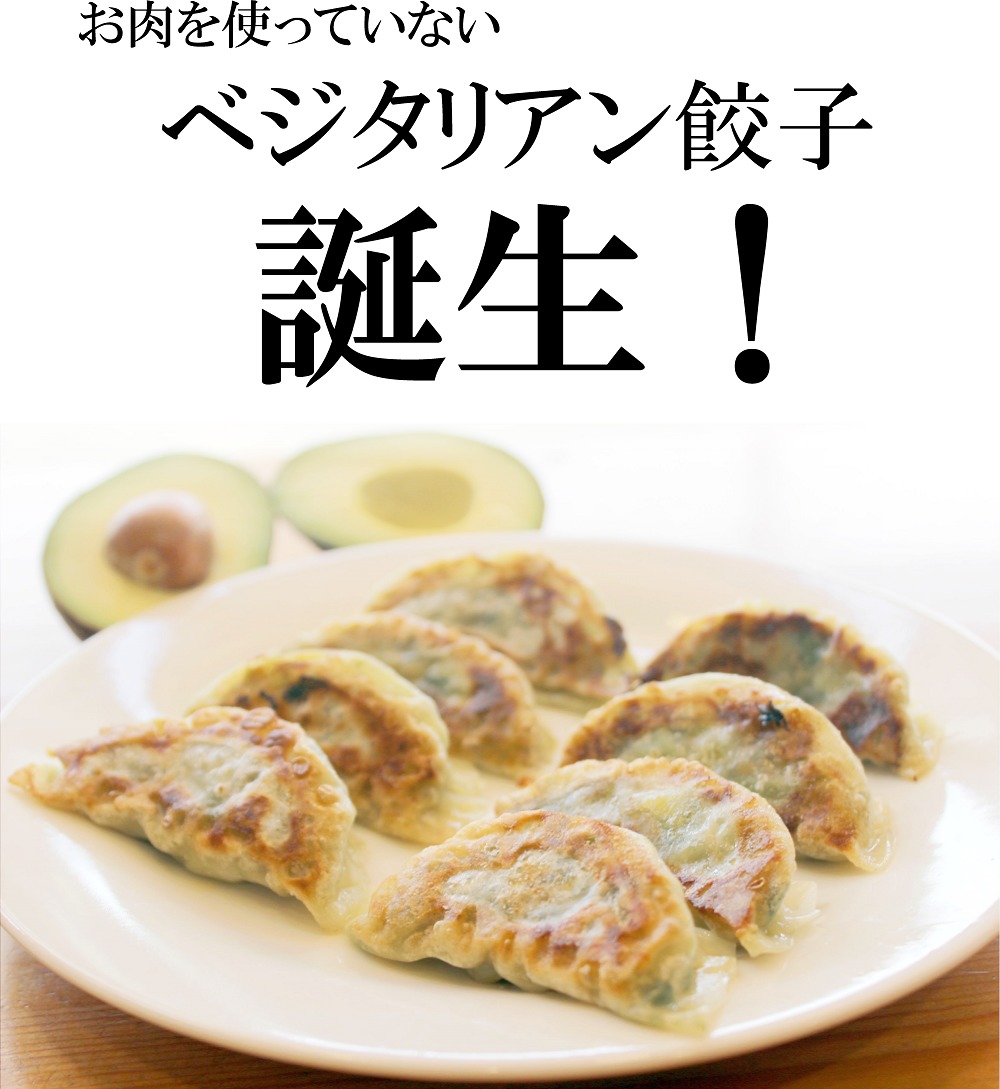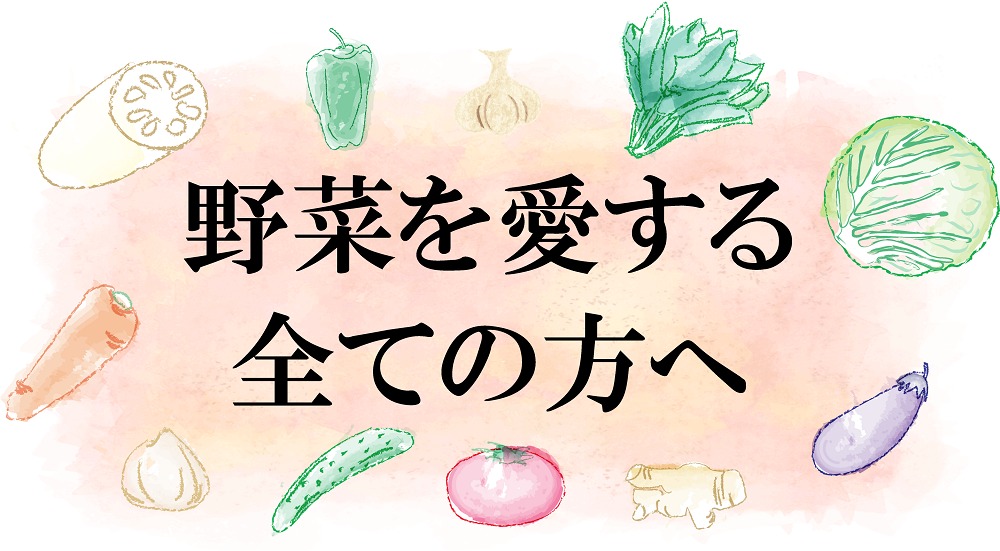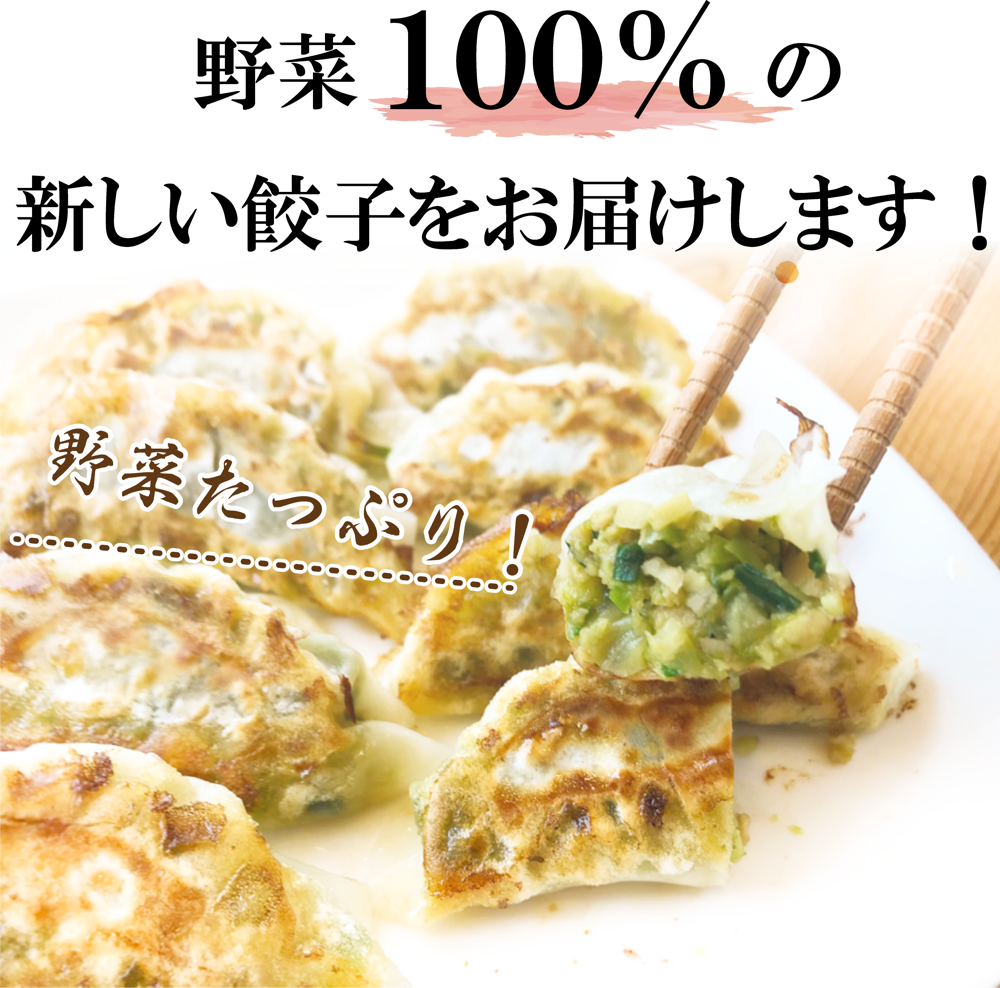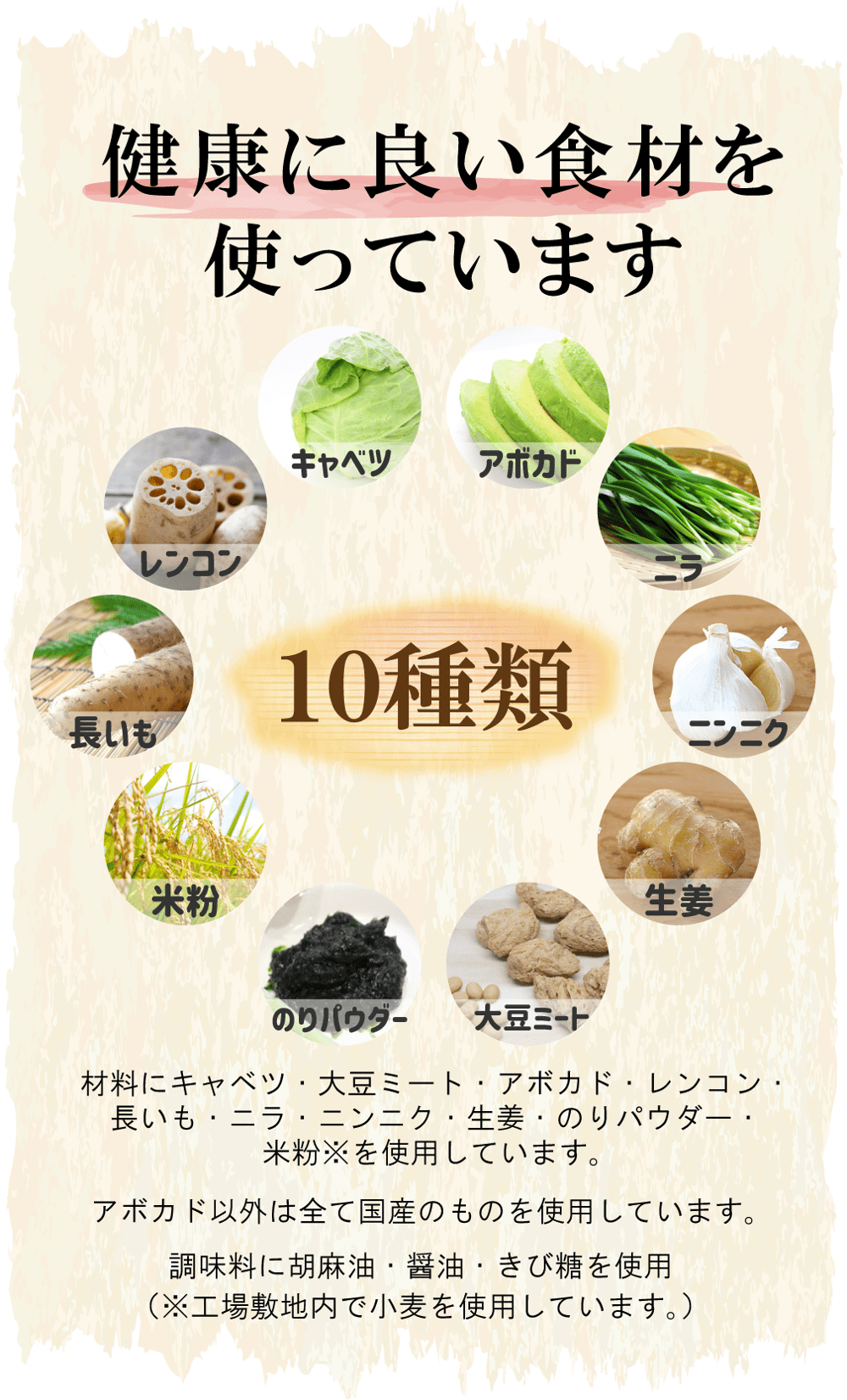 I use 10 kinds of special ingredients.
Except for avocado, it uses 10 kinds of ingredients such as Japanese cabbage, avocado, lotus root, long peach, raw laver, soy meat, ginger, garlic, chive, rice flour, so there are lots of minerals, dietary fiber and vitamins! It is also recommended as a healthy diet with excellent nutritional balance.
Seasonings use rock salt, sesame oil, soy sauce (no flour), and cane sugar.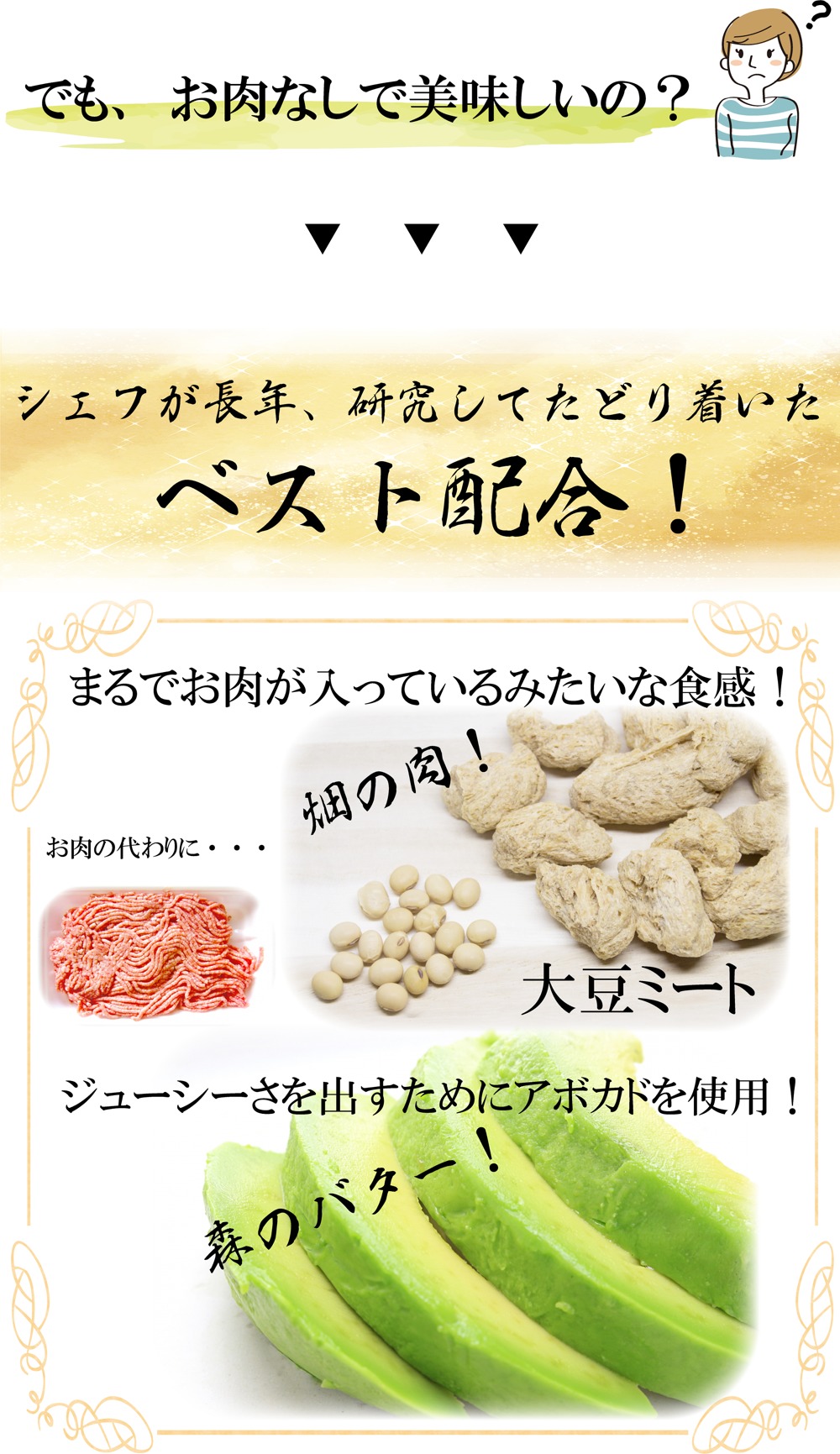 Vegetarian dumplings made without any meat
This vegetarian dumpling (vegetable bean dumpling) uses soy meat and avocado (oil) instead of meat to make it taste as good as regular dumplings.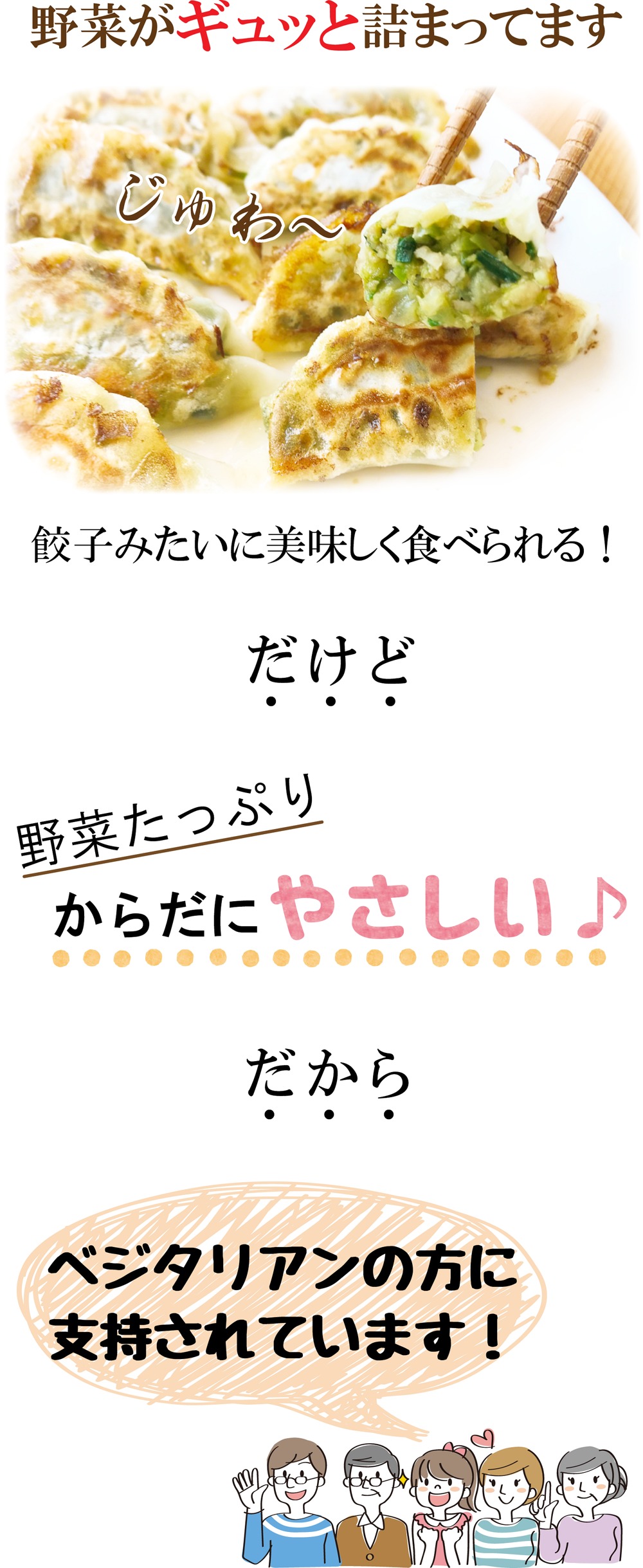 Gluten-free because it uses rice flour skin!*
The gyoza skin uses rice flour and is gluten-free. Soy sauce is carefully selected from flour-free soy sauce. Skin using rice flour can enjoy the texture.(* Flour is used on the factory premises.)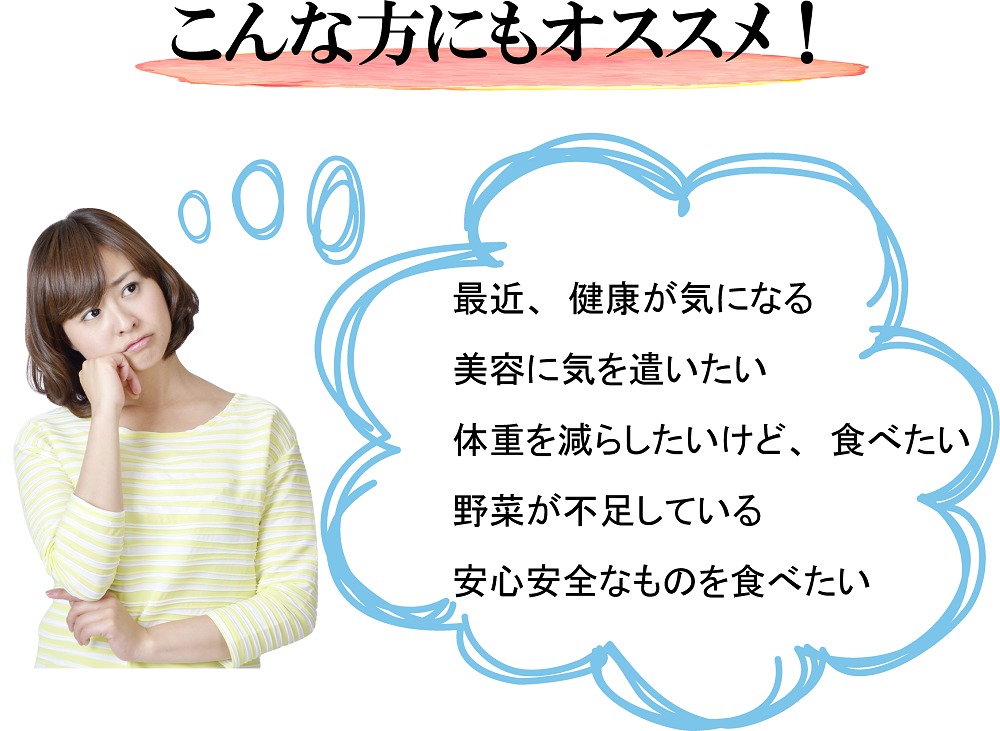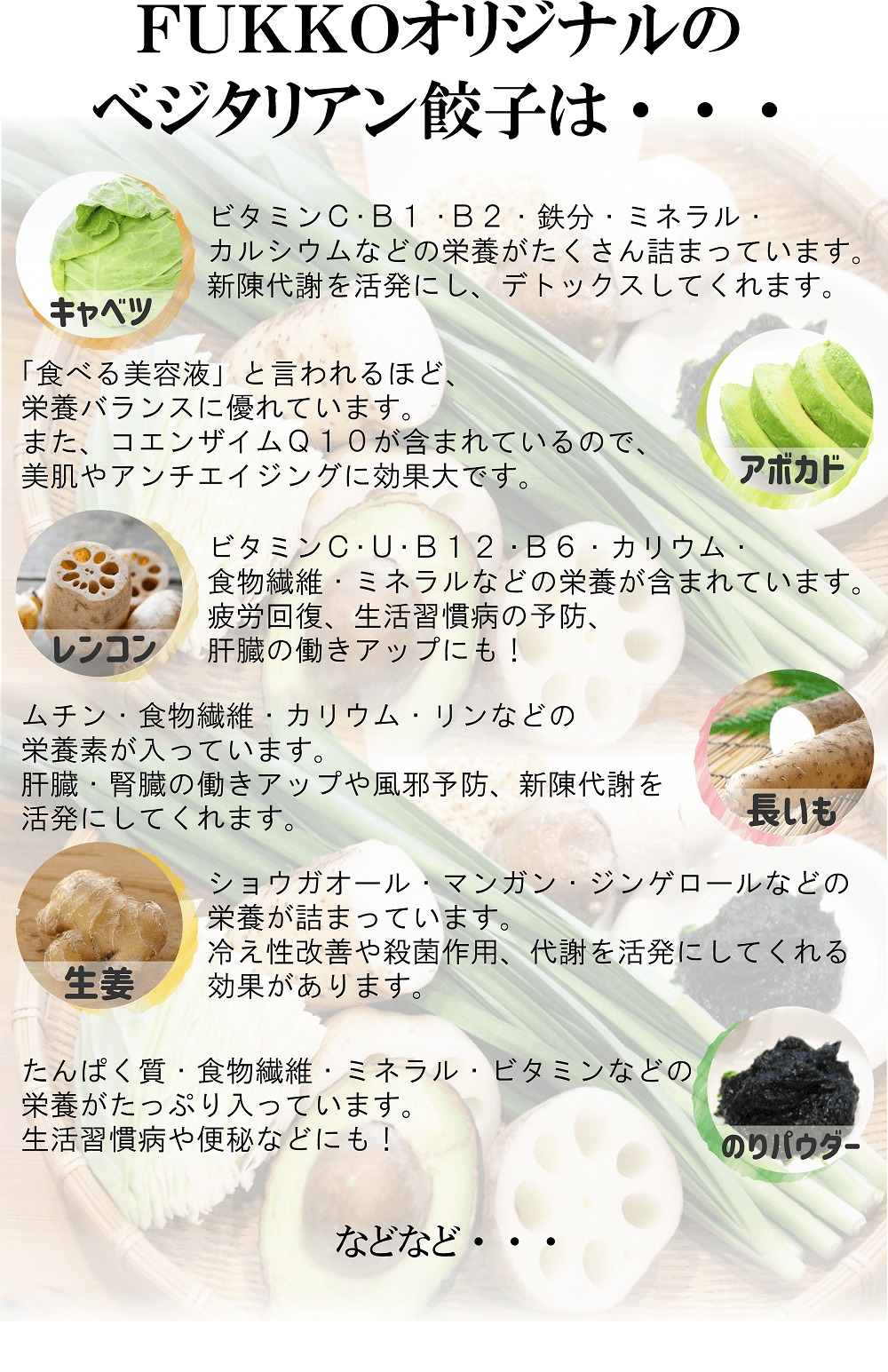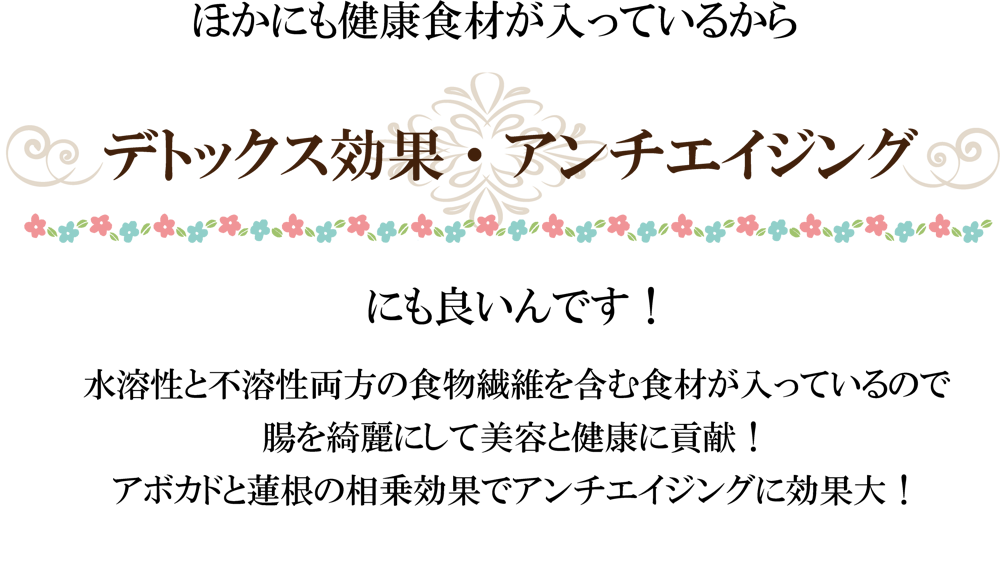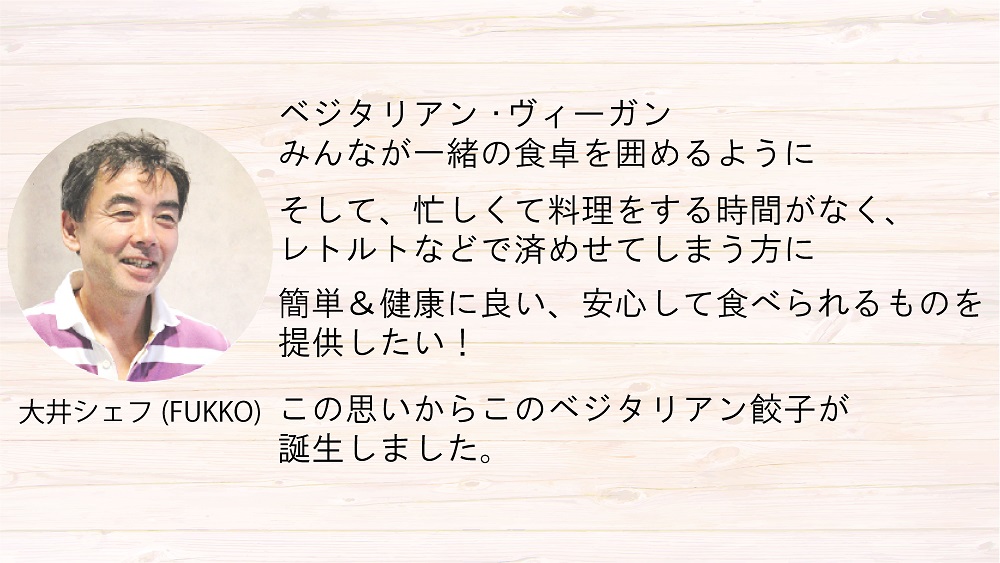 Easy cooking just bake frozen!
Just bake frozen, perfect for busy people!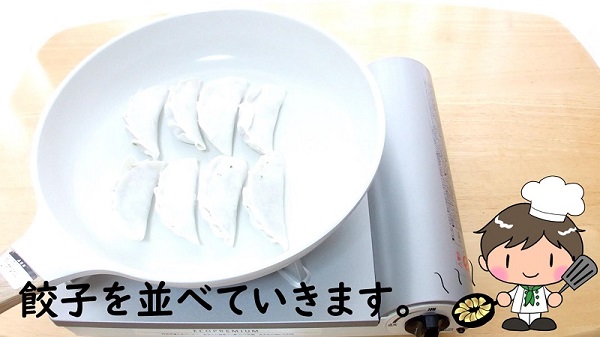 ① Prepare water and oil (olive oil etc. ♪), arrange vegetarian dumplings and light (high heat)
(* If you use a frying pan that has not been processed with Teflon, lubricate the oil.)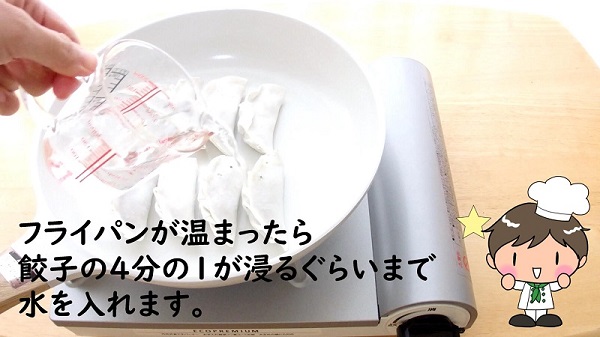 ② Add water when the pan is warm.
(About a quarter of gyoza soaked)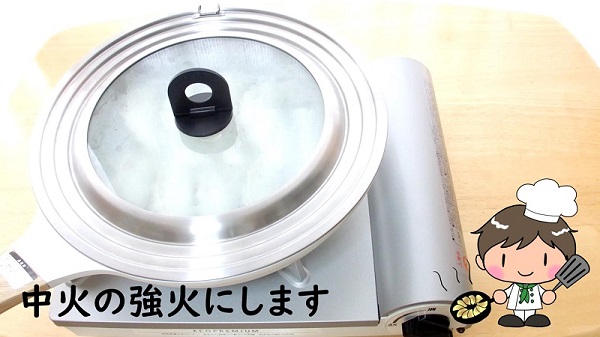 ③ Cover and set to medium high heat until water splashes
Wait about 5 minutes.
(* Gas and IH have different times, so please wait while watching the situation.)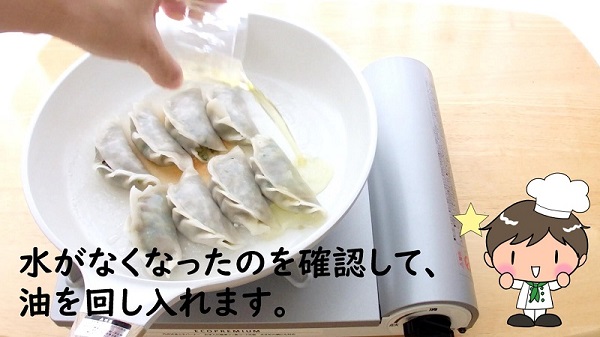 ④ If there is a little water left, wait a little until
Turn in the oil. Put the oil on medium heat.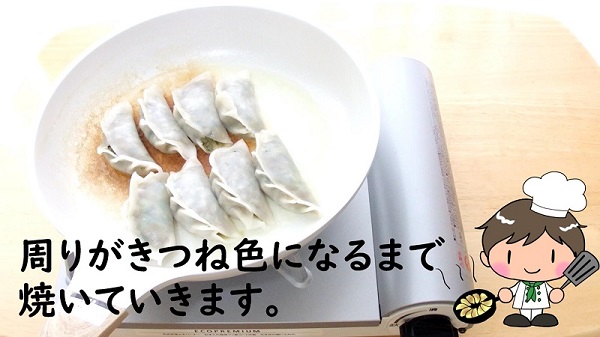 ⑤ Bake until the surroundings are golden.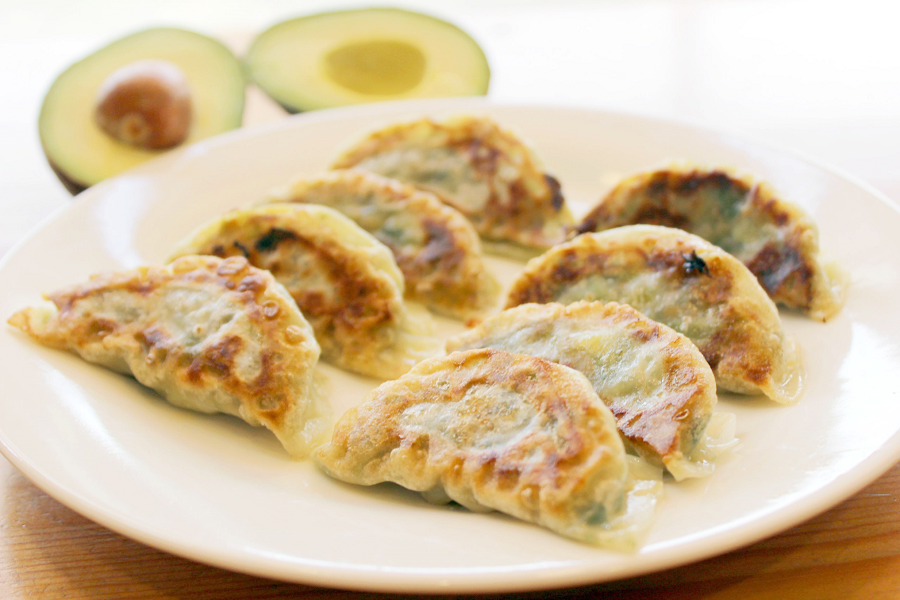 ⑥ Serve on a plate and it's done.
.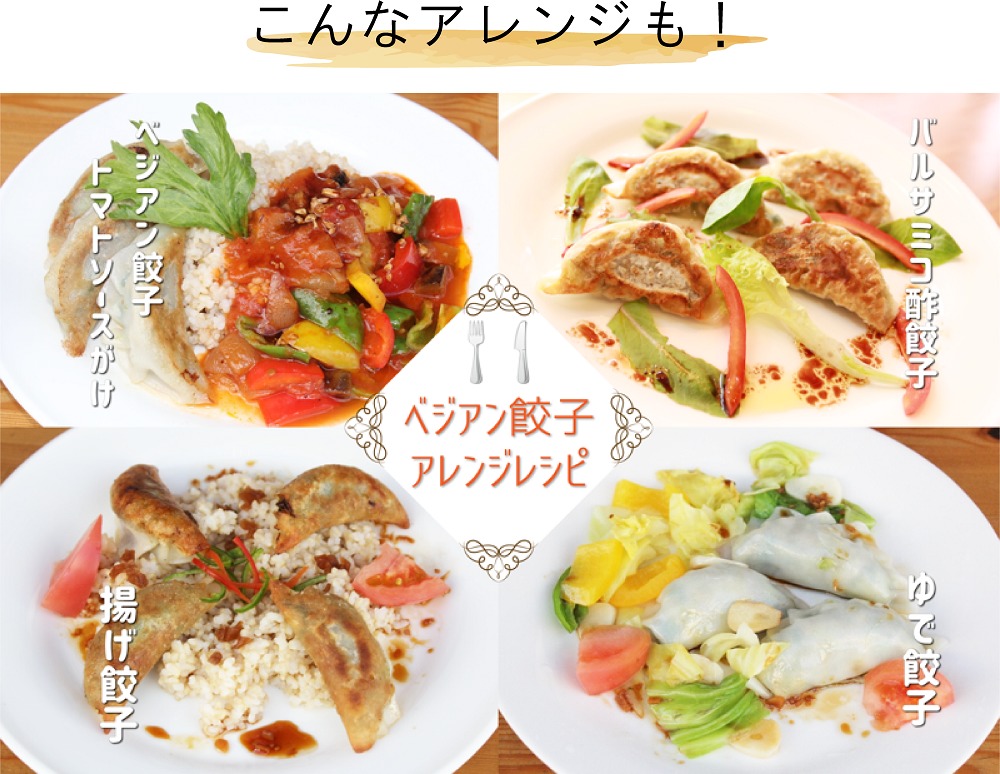 Lots of arrangements!
You can enjoy various arrangement recipes such as "vegetarian dumplings with tomato sauce", "balsamic vinegar dumplings", "fried dumplings" and "boiled dumplings". How about arranging your own way?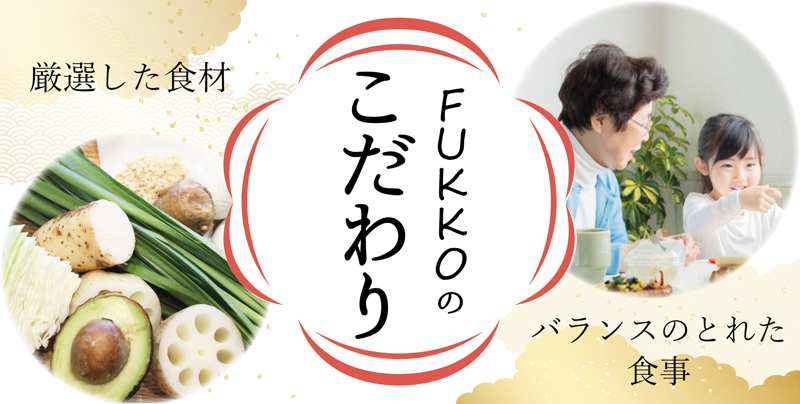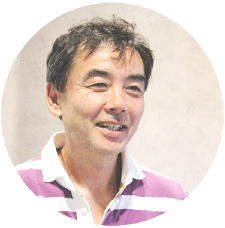 FUKKO's concept is "to live a healthy life", "be more beautiful from the inside of the body", and "keep in mind the local Hamamatsu ingredients". We sell original gyoza (vezian gyoza). Vegian gyoza does not use any meat and is a healthy gyoza made of only vegetables, so please try it once.
.


Review of those who purchased FUKKO products

miyuki(40s / housewife)
Rating:★★★★★
Basically I like meat, but I love Vegian dumplings here.
When I baked and went silent, my husband ate without any doubt that it was ordinary dumplings with meat. Later I revealed that I was surprised!
My husband and I both want to lose weight, so it might be a good idea to eat this sometimes. He likes meat and hates vegetables, so he thought this wasn't good either, but he says it's delicious.
Some dishes made with natural ingredients are not so tasty because their seasonings are dim, but this one is really delicious!
The taste is very solid and there is more punch than expected. The gyoza skin is also elastic and has a "feeling" feeling.
It says there is agar or nori in the ingredients, but I didn't know.
Convenient because it is frozen. Is it safe to have stock? I will buy it again.

OwJie(40s / Male)
Rating:★★★★★
Gyoza tastes like this?
It had a fresh taste that changed the image of past dumplings.
Because there is no meat, it is refreshing, but it has plenty of vegetables, so the texture is gyoza itself.
For me who was worried about metabolism, I was very happy to be able to eat without any calories.

Hiroshi(40s / Male)
Rating:★★★★★
I'll write about gyoza, but to be honest, I felt it was delicious. When people who are conscious of their health eat, they have a good response and the taste is good.
・ About skin
I heard that the skin was made from rice flour, but I didn't feel the skin itself different from ordinary skin and did not feel the habit of rice itself, so I think that even people who like flour can be more satisfied You.
・ About taste
The taste felt juicy. It seems to be a material made with an emphasis on health, but it seems to be a balance that people who like dumplings can be satisfied with because there is a response to eating.
I also learned later that I cooked frozen dumplings. I felt it was frozen and I couldn't understand it.
・ Personal opinion
If you say it is a rich or light system, I think that it is making (belonging) to both.
And it's good to eat without soy sauce. It's delicious even with soy sauce, but I thought it would be better to eat it if you think about health.
I personally like dumplings with meat, but I thought it was amazing to be able to get this much taste without meat.
I ate only four because I shared this time, but it was not greasy and the texture was good, so I thought I wanted to eat a little more. If you are alone, it may differ depending on the person, but I think that 8 to 10 pieces will fill your stomach.

Miki(30s / Female)
Rating:★★★★★
I was surprised when I heard that Vegian gyoza was not using meat. Gyoza = pork. If you eat without asking anything, you probably don't know that it is made with only vegetables.
I got Vegian gyoza with rice flour skin, but it was more chewy than the skin made of wheat and had a good meal.
The inside of the bean jam was well seasoned, and it was very delicious even if I ate it without anything.
I don't care about calories, I can eat as many as I can, and there are plenty of vegetables, so it was very helpful for me who do not usually eat vegetables. It is convenient to serve this when it becomes troublesome to cook because it is just baking ♪

Yuko(50's / Female)
Rating:★★★★★
The other day, a senior from my workplace gave me Vegian dumplings. I've been hearing about FUKKO's bento and Vegian dumplings for a long time and wanted to try them once.
If anything, it has been sensitive to additives for a long time, and I do not want to eat it as much as possible, but it is quite difficult. So I was very happy to have Vegian gyoza.
It seems that I can arrange various things, but I have no sense of cooking, so I decided to bake it simply. I used my favorite olive oil.
The first thing I felt was that the skin was very sticky. is. I chewed in my mouth quite a bit. I told my elderly parents that chewing can lead to brain activation.
I felt it was a bit dark because no sauce was needed, but the whole family said it was delicious.
And no one noticed that there was no meat. In particular, elderly parents thought that the food is thin and it is good from the nutritional point of view, and that it is a dumpling that daughters who will have children in the future can eat with peace of mind! I want to eat a bento.

Mikako(60s / Female)
Rating:★★★★★
I think it's a healthy and health-friendly gyoza with healthy food. I felt it was just right because I like the light taste.
It had a sticky texture and the ingredients were soft and easy to eat overall.
Gyoza, a classic summer dish, is eaten a lot in my home as a source of stamina in the summer, but I feel it is difficult to make gyoza that satisfies without adding meat. I thought, but I was glad I bought it because it was received by the whole family.
May also suit young women on a diet. My daughter was more happy than my son. I think that it is suitable for those who like gyoza which is not greasy.